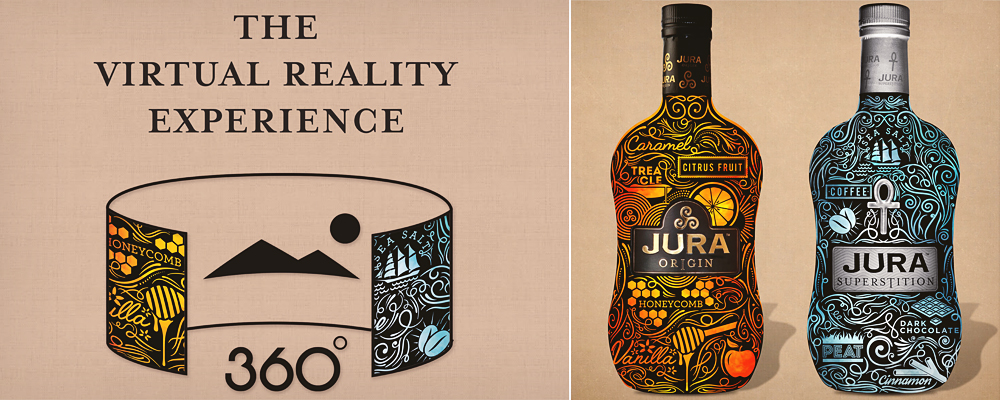 2017-11-03
Nontrivial tasting of Scotch whisky is taking place at Chisinau Airport. All the visitors can taste the products from Isle of Jura with atmospheric bonus: wearing 3D glasses one can make the virtual journey to the Jura Island, admire its natural beauty and see where the premium whisky is matured.
Jura Island is like a separate world, full of superstitions and magic. About 200 people and 3,5 thousand red deer inhabit this Scottish piece of earth. There are three mountains which protect citizens from winds and strong sunlight. 200-year distillery is located at the very heart of the island. At the end of 18 century the production of alcoholic drinks for personal needs was suspended, but later the owner of the island met the old lady in his dream, who blamed him for the lack of gold drink. So right after this vision the man decided to establish the whisky distillery inside of the smuggler's cave to control the trade personally.
Isle of Jura Superstition – fruity aroma is dressed with marzipan and honey. The taste brings spices, honey notes, pine, peat, cinnamon, coffee beans and chocolate.
Isle of Jura Origin – 10YO whisky with fruity aroma with subtle smoky notes. Reserved and noble taste is garnished with spices and fruits.
Isle of Jura Turas Mara – the name is translated as "long journey". Limited edition from the manufacturer. The aroma brings fruity notes: cherry, grape, plum. The taste features vanilla, caramel, honey and chocolate.
Isle of Jura Prophecy is heavily peated whisky. The aroma is saturated with cinnamon, flavored herbs and sea sprays. The taste offers liquorice and nutmeg.
Come and taste Isle of Jura at Chisinau Airport up to the end of November.