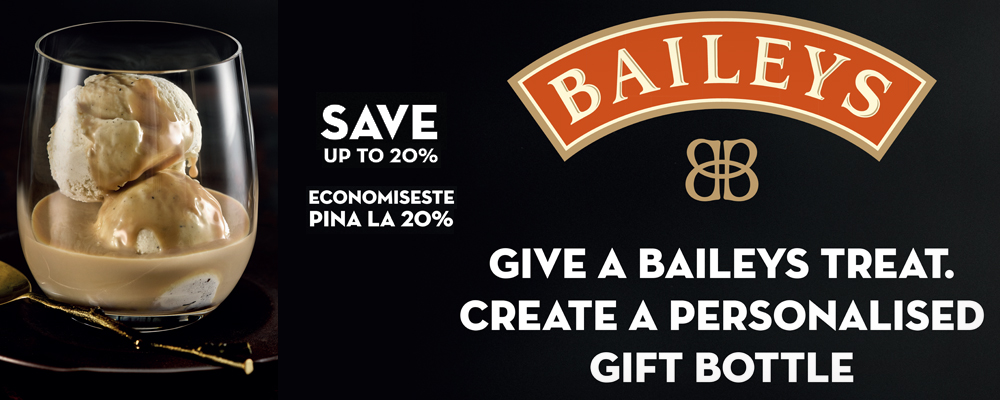 2017-12-01
Unusual tasting of Baileys liqueurs is held at Chisinau Airport. If you like the drink, you can get a bottle with personalized label right there! So it's a great opportunity to have a personalized bottle of Baileys with your name of the name of a person you'd like to impress.
The recipe for Baileys is a well-kept secret. Though the producers claim that the base of the whole product line is Irish liqueur and Irish whipped cream. It's interesting to note that all the beverages of the brand are made exclusively from natural ingredients with no conservatives. Baileys has a shelf life of 24 months.
Baileys Irish Cream 17% - the first product of the brand, which became extremely popular right after the launch. Appeared in 1974. It was produced 72 000 bottles during the first year of production. To this day the attempts of other producers to duplicate such success have failed. The taste of classic Baileys remains inimitable.
Baileys Salted Caramel 17% features intense caramel taste with delicate salty note. Smooth and velvety.
Baileys Espresso Creme 17% offers exquisite taste of vanilla and cream with espresso notes. Such aperitif tends to boost and cheer up.
Baileys XC Liqueur 17% features complex taste with more intensive notes of vanilla and chocolate. Exclusive for duty free.
Baileys Vanilla Cinnamon 17% - the newest addition to the product line, represents the blend of Madagascar vanilla and cinnamon. Refined sweetness and tempting flavor brings romantic mood.
The promo is on up to the January, 2018. Don't miss the chance to get the name product from the best producer of cream-based liqueurs!