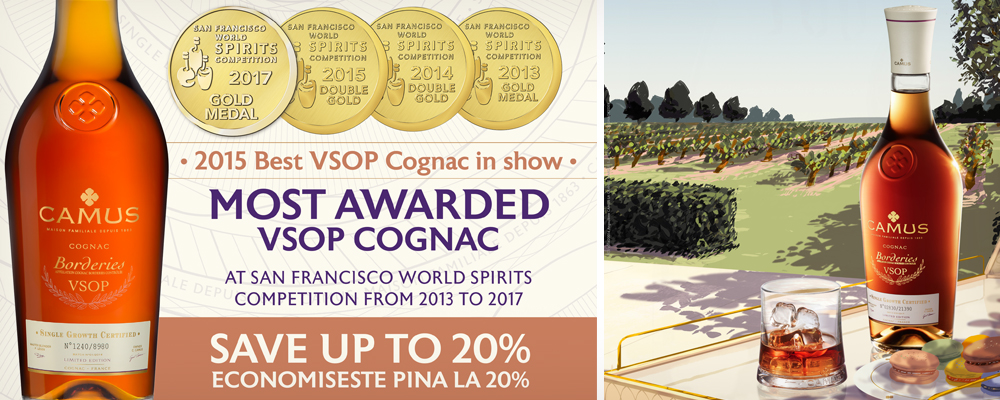 2018-02-05
The tasting of Camus cognac is held in the International Chisinau Airport.
The House of Camus was established in 1863. It was decided from the very beginning to make exclusively high-quality cognac. Such company line resulted in growing popularity of the brand all over the Europe in a few years. Later it became the official cognac at the court of Nicholas II. Old recipes are passed through generations. The company produces cognac from its own eaux-de-vie: from Ugni Blan, Folle Blanche and Colombard grapes, grown in the Cognac region.
During the current month all the visitors of the Chisinau Airport are able to taste the following varieties of the exquisite French cognacs:
Camus VSOP Borderies was introduced in 2014 as a limited edition cognac. Exclusively distilled on the lees. The complex taste and flavor is the result of a long ageing in seasoned casks. The main notes include milk chocolate, orange peel and spices.
Camus XO Borderies – unique limited-edition made from the vines around the domain's own estate. Double-distilled on the lees and aged at least 6 years in small ex-Limousin oak barrels. As a result: intense fruity and floral notes.
Camus Dark & Intense 40% - a special edition, the most full bodied variation of the brand. The cognac with extremely intensive flavor featuring almond, ripe fruits and spices. Creamy-oily taste with subtle bitterness of dark chocolate.