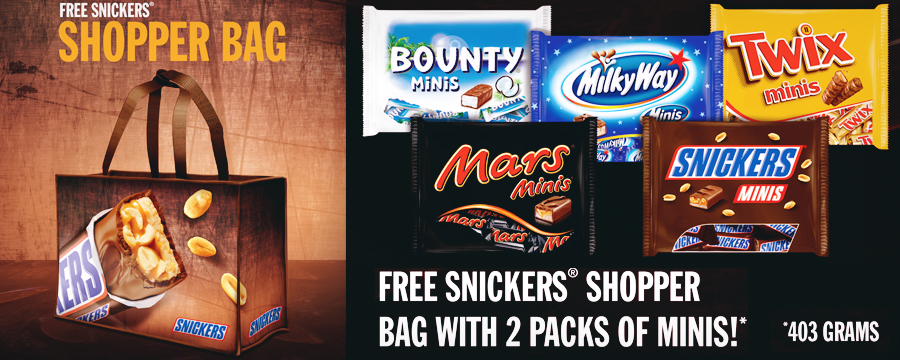 2016-12-13
In December Dufremol together with Mars has a special offer for the customers - buy two packs of minis Bounty, Mars, Snickers, Milky Way or Twix and get free handy shopper bag.
Mars is a leading manufacturer of confectionery and other food products. The popular chocolates of the producer are known all over the world: Bounty, Mars, Snickers, Milky Way и Twix. Mars sweets and chocolates have been popular for several decades. Such success ensures constant quality of the products.
The history of the company dates back to 1911. Frank Mars and his wife Ethel learned how to hand-dip candy, so later on they decided to register their own company, named Mars Candy Factory, Inc. In 1923 Frank with his son Forrest introduced the Milky Way bar, which became a real sensation. The company's profit was doubled at once due to successful sales. In 1932 Forrest started Mars Limited in the UK, and the Mars bar was introduced during this period. In 1964 the merger of two enterprises took place. Nowadays the products of the company are supplied worldwide. Strict quality assuring system is established at all factories. There are no partitions or private offices, so the employers work together as a team.
The promo from Mars is held till the end of the current month.